JASON NEWSTED
---
---
I am now taking letters/comments/rants/etc. about Jason leaving Metallica and posting them on this site. I will post them in their unedited form, so be sure your thoughts will not be diluted.
If you have any stories related to Jason, pictures that you have taken, etc. that you'd like to see on this site, just send them in!
This site serves as an archive in tribute to Jason. Contribute to it and be part of history! I have received many already and will have them up soon. Be sure to get yours in before my next update!
Of course, credit will be given for all submissions. But, as a special offer only made on this site, the best submission each month will win a LIVE METALLICA SHOW ON CD!!! There are no limits to the number of submissions you can send in! Enter each month as many times as you like!
---
APPROVED RETAILERS:

unbelievable amount of hard to get METALLICA gear!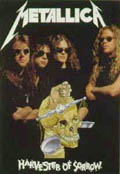 Harvester of Sorrow


WICKED BASEBALL CAP
Clicking on my sponsors helps me keep this site going. THANKS!!

The first inkling appeared when at the highly anticipated "VH1 - My music awards" aired live. It was promoted in every way it possibly could, like in commercials, on the web, and it even let us fans choose the song to be played. As always, Metallica performed "Fade to Black" perfectly, outside in the parking lot. And no one was surprised when Metallica took home "Gods of Thunder", over new bands like Creed.I guess Jason didn't feel much like a god of thunder, considering he didn't show up for the pre-show, or the recption,and even sitting his own section, away from James, Lars, and Kirk. I was surprised, seeing the band like that, and even more surprised that not too many Met fans were aware of this. But it wasn't surprising when Jason left Metallica,in January. Joining Metallica, the band expected him to fill in Cliff's shoes decently, and play good. Joining Metallica for Jason was not only for that, but to contribute his all to Metallica in a different way than Cliff. Considering out of 4 original albums, (not including the cover album Garage Inc. or S&M) Jason only helped write 3 songs. Those three songs (My friend of Misery, Blackened, Where the wild things are) all happen to kick mad ass. Who knows what Metallica could have produced if they let Jason contribute to the albums more? It definately would have made Re-Load and Load much heavier. Even Kirk admitted it was bitchy of James to prohibit him from releasing his Echo Brain album. Now that he's not in Metallica, he's finally allowed to do whatever he wants, and Lars even claimed they were much closer as friends now. What more could you want from an ex member? I mean, they're in touch, still close friends, and who knows, maybe they'll do a show or two together(Keep those fingers crossed!). Sure, now Metallica can't cover songs like Of Wolf and Man and?Seek and Destroy very well now (We all love Jason's voice), but we all have to thank Jason for 14 years of heavy shit, head-banging, etc, etc. Rock on, Metallica (and Jason)!

- queenrozidala@aol.com
May, 2001




---

NOTE: All the content included here can be downloaded for personal use, but cannot be posted on another website without my permission.

visit our sponsors for WICKED deals on Jason Newsted & Metallica merch!


CDs so cheap, it's unreal!

COOL LINKS:
Encyclopedia Metallica


I'm always looking to trade rare Jason/Metallica items!
E-mail me.








The IR8 DEMOS:

download them here FREE!

For those of you who didn't know, Jason recorded 3 songs with Devin Townsend a few years back. These songs are heavy!! Jason does vocals and they are even harsher than what he did live with METALLICA!! ENJOY!!


---

IR8

---


Garage Days Re-revistied for $2.75?? See what else they have at half.com!
Buy Jason & Metallica CDs now @ half.com: click HERE

---

IMPORTANT NOTE!

I teamed up with a few retailers in order to bring the Newsted fans some wicked deals on merch. Click on the links you see around this site to get some exclusive deals & pricing on killer stuff!

HAPPY HUNTING!


you can even find LIVE Metallica CDs here!!


signup with this program & start getting cash!


check this out!


Paris Hippodome 13.6.93